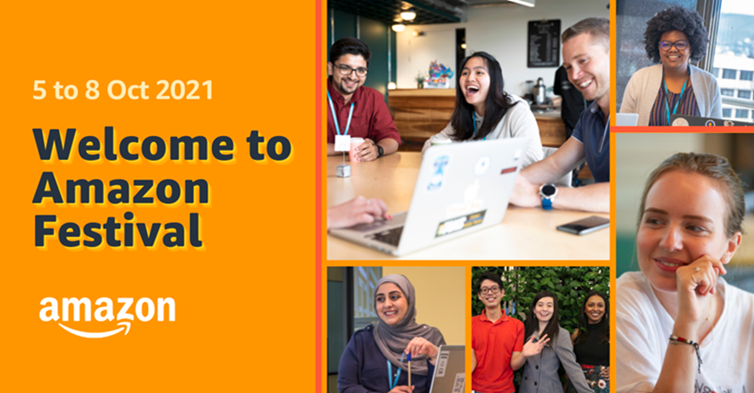 Amazon would like to invite undergraduate and graduate students looking for internship and full-time opportunities to join our first ever Welcome to Amazon Festival. It will take place over four days, with each day giving you an insight into Amazon's culture and career tips.
More Information About The Festival
The four-day Welcome to Amazon Festival will provide attendees with the chance to find out about the peculiar Amazon culture, tips about how to prepare for the interview process, and to hear career advice from Amazonians. The event will take place from 5 October, 2021 to 8 October, 2021. Each day will consist of two sessions, starting at 14:00 BST and ending by 16:00 BST.
See here for the full schedule of events.
PEOPLE & CULTURE – Tuesday, 5 October
As an introduction to the festival you'll have the opportunity to hear from one of our Senior Leaders who will share their experience of working at Amazon. Some of our EMEA Graduates will also be on hand to share information about their day-to-day work and top tips for being successful at Amazon. We'll have a Q&A session, so get your questions ready!
AMAZON AFFINITY GROUPS – Wednesday, 6 October
Join us on this date to hear from some of Amazon's Affinity Groups including Women@ and the Black Employee Network UK (BEN UK). In these sessions you will learn about what the Affinity groups do and how they contribute to celebrating Diversity, Equity and Inclusion at Amazon.
CV AND INTERVIEW SKILLS WORKSHOPS – Thursday, 7 October
Come and find out about how you can best prepare for our application processes ahead of applying to our internship and graduate opportunities. There will be information provided to help set you up for success as you think about submitting applications for our exciting roles.
AMAZON GIVES BACK – Friday, 8 October
Corporate Social Responsibility (CSR) and Sustainability are two things our people at Amazon are very passionate about. This session gives you insight into the great initiatives that Amazon has worked on and future initiatives. This will be hosted in partnership with the Amazon in the Community team!